The BIG BOOK
Apparel & Accessories Catalog
This is the perfect source for all styles of t-shirts, polo shirts, crews, hoodies, jackets, button downs, caps, aprons, bags, and much, much more! Now, over 800 pages!
Our Headwear Selection
In addition to the headwear offered in The BIG BOOK, we are pleased to offer Pacific Headwear, Richardson Cap, and our newest addition of Outdoor Cap all with a reputation for quality headwear and decoration. In addition, we also offer OTTO Headwear, a good budget friendly alternative.
BIG Five
Sportswear Catalog
We proudly represent the Augusta family of sportswear brands including Holloway, High 5, augusta, Russell Athletic, and most recently, Pacific Headwear.
Portwest
Portwest brings over 114 years of experience providing stylish, comfortable, high quality workwear and accessories that meet or exceed recognized quality and safety standards. At Alderson's,
we are able to supply you with the complete line of Portwest apparel offerings decorated with your logo. Samples of many styles are available to view in our showroom. Additional samples are available at end quantity pricing.
We are Here to Serve You!
Experience our fast, friendly, and helpful service as we make ordering easy and affordable. Whether its t-shirts, awards, banners, name badges, or another of our complete line of imprinted products, we've got you covered. Our team is always here to help your team!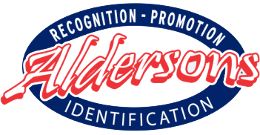 Hours of Operation
Monday - Friday:
9:30am - 5:00 pm
Local: 360-736-2912
Toll Free: (800) 556-2912
1124 Kresky Avenue,
Centralia, WA 98531
Proudly Serving Centralia, Chehalis and all Of Southwest Washington since 1972
Who We Are
Since 1972, we've offered a wide variety of products and services to meet the imprinted product needs of businesses, schools, churches, non-profits, government entities, and individuals. Our, "under one-roof" philosophy, combined with fast, friendly, and helpful service makes ordering with us easy. No need to use multiple companies. Save your time and money with our comprehensive and convenient products and services. Just click here to see what our customers say about us. Contact Alderson's Awards West-Printwares in Centralia, Washington for your custom imprinted product needs.