We are Here to Serve You!
Experience our fast, friendly, and helpful service as we make ordering easy and affordable. Whether its t-shirts, awards, banners, name badges, or another of our complete line of imprinted products, we've got you covered. Our team is always here to help your team!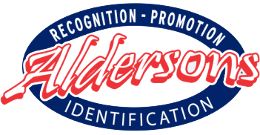 Hours of Operation
Monday - Friday:
9:30am - 5:00 pm
Local: 360-736-2912
Toll Free: (800) 556-2912
1124 Kresky Avenue,
Centralia, WA 98531
Proudly Serving Centralia, Chehalis and all Of Southwest Washington since 1972
Who We Are
Since 1972, we've offered a wide variety of products and services to meet the imprinted product needs of businesses, schools, churches, non-profits, government entities, and individuals. Our, "under one-roof" philosophy, combined with fast, friendly, and helpful service makes ordering with us easy. No need to use multiple companies. Save your time and money with our comprehensive and convenient products and services. Just click here to see what our customers say about us. Contact Alderson's Awards West-Printwares in Centralia, Washington for your custom imprinted product needs.